I love to learn something new, particularly when its about something that I am passionate about: design, antiques, decor and of course jewellery.
I was perusing Cynthia Findlay's website - I'm off to Toronto next week and this store is always a must stop shop - her website features a blog and it's guaranteed to teach you something. Her blog on Regard and Dearest jewellery is what caught my eye I hope you find it as interesting as I do. Her blog is below:
In spite of Britain's infamous reputation as a highly reserved people, Queen Victoria was a great romantic who wore her love for her husband and children on her proverbial shirt-sleeve. Queen Victoria's love of her family inspired a wave of sentimental Victorian jewellery, which caused the British people to literally wear their emotions on their sleeves, if not anywhere else.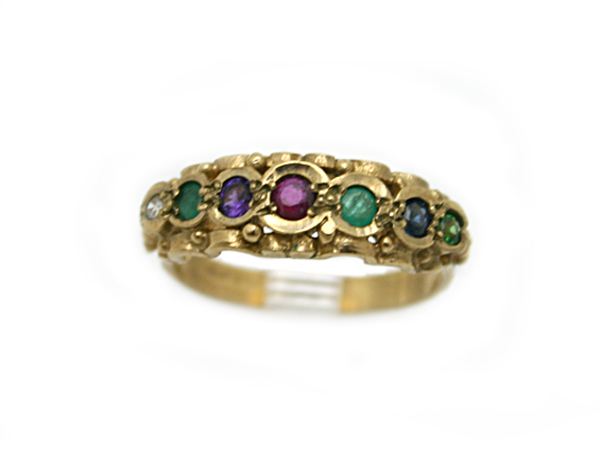 For example, 'dearest' and 'regard' jewellery, where gemstones are arranged in such a way that the first letter of each stone spells out a word of endearment, became very popular. First, one would receive a 'regard' piece, and then, if the relationship progressed the suitor would present a 'dearest' pin or ring. A 'Regard' piece, includes, in this order, Rubies, Emeralds, Garnets, Amethysts, Rubies, and Diamonds. Likewise a dearest ring includes, in this order, Diamonds, Emeralds, Amethyst, Rubies, Emeralds, Sapphires and Topaz.
I was so intrigued that I went on the hunt for other examples of Regard and Dearest jewellery. What I found did not disappoint these beautiful pieces date from the 1860's to late Victorian times, they are as sentimental as they are beautiful. They are a bit pricey, a vintage (1950's or later) version will start at $500, the quality originals start at $800 and go up to $4500 depending on the hallmarks.
Imagine this turned into a pendant, beautiful!

Picture multiple rings stacked, they would be so pretty!
J