Do you remember when Genevieve Gorder glued flowers on a horrified home owners wall in Trading Places? I do, Trading places may not have been the design industries proudest moment but for me it was the start of design television. For this reason I have a soft spot for Genevieve, she was and continues to be a joyful designer who brings her extensive graphic design background to her design work in quirky and interesting ways.
This week Grace Bonney from Design Sponge interviewed Genevieve on her weekly radio show, After the Jump, it was a lovely interview. If you are a fan of Genevieve, it is definitely worth a listen to hear how she got her start and what continues to inspire her. Click here to listen to the interview.
Genevieve Gorder
The best part of the interview was hearing that she has new show coming out, cameras will follow her around as she renovates her own home. She purchased the apartment next to her and she is combining the two for one big apartment. Isn't that everyones dream project?
Her current show Dear Genevieve will continue to run and the Genevieve fans out there can still watch reruns of Town Hall. Here are a few of my favourite Dear Genevieve rooms:
Dear Genevieve Bathroom
Dear Genevieve Pink Living Room
Dear Genevieve Dining Room Makeover
Dear Genevieve Condo Makeover
If you are a fan of Genevieve you may have already drooled over her home featured in Design Sponge's book. It is the perfect balance between old and new. Architectural salvage elements fill her home and look oh so inviting. If you haven't see her house here you go, drool away!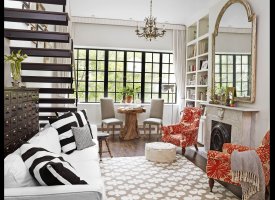 Genevieve Gorder's NYC House
Genevieve's House
From Design Sponge Genevieve's Home